We're so excited to welcome local author Edward Hemingway to launch his newest picture book for young readers Pigeon & Cat. Eddie will read and sign copies of this heartwarming story about being houseless in the city, and the unexpected friendships that arise from hardship.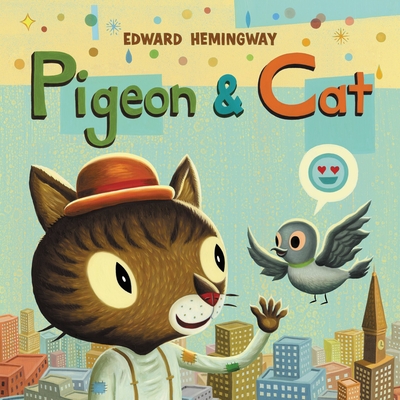 In an abandoned city lot, Cat lives alone in a cardboard box. He leaves only to find food. One day, Cat discovers an unbroken egg too beautiful to eat. Soon, out pecks Pigeon, and they become fast friends. Cat is happy to share his box with Pigeon. But when Pigeon flies far away from where they live, Cat must brave the city in order to rescue his friend. This journey will forever transform his understanding of home. This heartwarming story explores unlikely friendships, the creative spark within us, and how to give comfort and kindness in small, impactful gestures. It is also a celebration of urban community.

Edward Hemingway is the acclaimed creator of many popular books: Tough Cookie: A Christmas Story, Field Guide to the Grumpasaurus, and Bad Apple: A Tale of Friendship. His writing and artwork have been published in the New York Times, Nickelodeon Magazine, and GQ Magazine, among others. He lives in Bozeman, Montana. He invites you to visit him at edwardhemingway.com.
Event Guidelines
This event is free and open to the public. To join the signing line and have books signed by the author at this event, please consider purchasing your copy of Pigeon & Cat from Country Bookshelf, either in-store, over the phone, or online (scroll down). The author's previous titles will be available for purchase at the event as supplies last.
Can't make it to the event, but still want to purchase an autographed or personalized book? Place your order below, enter "signed copy" plus any personalization details in the comments section of your order, and we'll have the author sign your books and ship them to you after the event!