Courageous Voices of Immigrants and Transnationals of Color: Counter Narratives Against Discrimination in Schools and Beyond- Foreword by Zeus Leonard (Black Studies and Critical Thinking #4) (Paperback)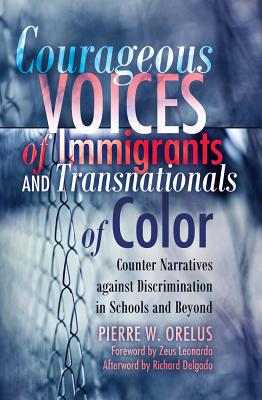 Courageous Voices of Immigrants and Transnationals of Color: Counter Narratives Against Discrimination in Schools and Beyond- Foreword by Zeus Leonard (Black Studies and Critical Thinking #4) (Paperback)
$66.71

This title is likely unavailable. Email or call for price and availability.
Other Books in Series
This is book number 4 in the Black Studies and Critical Thinking series.
Drawing on critical race theory and the courageous narratives of immigrants and transnationals of color, this book articulates how these individuals have been racially and linguistically discriminated against, and the extent to which they have resisted such discrimination. Pierre W. Orelus analyzes and situates their vibrant stories in the larger U.S. racial and socio-political context, where they and other marginalized groups have been racially and linguistically targeted despite their U.S. citizenship and status as university professors, thus complicating notions of class and citizenship. The book goes further to illuminate how U.S. foreign policy has played a key role in the dislocation and migration of many people, particularly immigrants of color, to foreign lands. It concludes with recommendations for combating racial, linguistic, and xenophobic discrimination against immigrants and transnational subjects of color.
Pierre W. Orelus is Assistant Professor in the Curriculum and Instruction Department at New Mexico State University. Professor Orelus recently received a New Mexico State Dean of Education award for Excellence in Research. Dr. Orelus's recent books include Rethinking Race, Class, Gender, and Language: A Dialogue with Noam Chomsky and Other Leading Scholars.