Reading African American Experiences in the Obama Era: Theory, Advocacy, Activism- With a foreword by Marc Lamont Hill and an afterword by Zeus Leonar (Black Studies and Critical Thinking #8) (Paperback)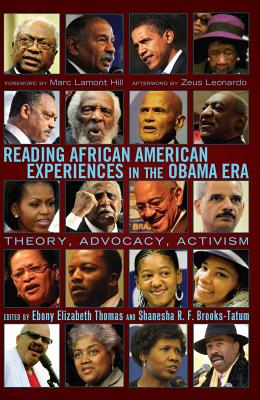 Reading African American Experiences in the Obama Era: Theory, Advocacy, Activism- With a foreword by Marc Lamont Hill and an afterword by Zeus Leonar (Black Studies and Critical Thinking #8) (Paperback)
Email or call for price & availability
Other Books in Series
This is book number 8 in the Black Studies and Critical Thinking series.
What does it mean to be Black in the Obama era? In Reading African American Experiences in the Obama Era, young African American scholars and researchers and experienced community activists demonstrate how to encourage dialogue across curricula, disciplines, and communities with emphases on education, new media, and popular culture. Considering what this historic moment means for Black life, letters, and learning, this accessible yet scholarly volume encourages movement toward thoughtful analysis today.
Ebony Elizabeth Thomas is assistant professor of reading, language, and literature in the division of Teacher Education at Wayne State University. She has published her work in English Journal, The ALAN Review, and Sankofa: A Journal of African Children's and Young Adult Literature, as well as the books A Narrative Compass: Stories That Guide Women's Lives and The Pressures of Teaching. She is an alumna of Florida A&M University, Wayne State University, and the University of Michigan, Ann Arbor. Shanesha R. F. Brooks-Tatum is postdoctoral research and instruction fellow at the Atlanta University Center Robert W. Woodruff Library. She has published works on Christian hip-hop, spoken-word poetry, and Black popular culture, and is an alumna of the University of California, Berkeley and the University of Michigan, Ann Arbor.