Fighting for Our Place in the Sun: Malcolm X and the Radicalization of the Black Student Movement 1960-1973 (Black Studies and Critical Thinking #40) (Paperback)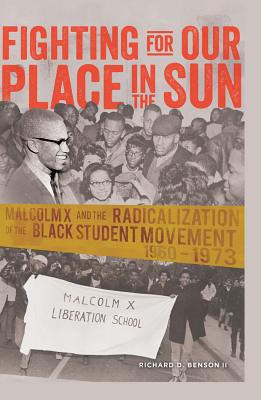 Fighting for Our Place in the Sun: Malcolm X and the Radicalization of the Black Student Movement 1960-1973 (Black Studies and Critical Thinking #40) (Paperback)
Email or call for price & availability
Other Books in Series
This is book number 40 in the Black Studies and Critical Thinking series.
In Fighting for Our Place in the Sun, Richard D. Benson II examines the life of Malcolm X as not only a radical political figure, but also as a teacher and mentor. The book illuminates the untold tenets of Malcolm X's educational philosophy, and also traces a historical trajectory of Black activists that sought to create spaces of liberation and learning that are free from cultural and racial oppression. It explains a side of the Black student movement and shift in black power that develops as a result of the student protests in North Carolina and Duke University. From these acts of radicalism, Malcolm X Liberation University (MXLU), the Student Organization for Black Unity (SOBU/YOBU), and African Liberation Day (ALD) were produced to serve as catalysts to extend the tradition of Black activism in the late 1960s and early 1970s. Scholars, researchers, community organizers, and students of African-American studies, American studies, history of education, political science, Pan-African studies, and more will benefit from this provocative and enlightening text.
Scholar, author, advocate, Richard D. Benson II earned a PhD in educational policy studies from the University of Illinois-at Urbana Champaign. He travels frequently as a guest lecturer speaking on topics such as the black student movement, and school-community advocacy. Benson resides in Atlanta, Georgia, where he is Assistant Professor in the Education Studies Program at Spelman College.
Richard D. Benson II's book will ground oft-misguided declarations about the purpose and future of historically Black colleges and universities … He connects the political and educational philosophies of Malcolm X, the Nation of Islam, SNCC, SOBU, YOBU, and a constellation of Black organizations to fashion a new interpretive lens … This remarkable and long-awaited corrective by a teacher/scholar operate[es], as Brother Malcolm did, in Black pedagogical spaces where intergenerational and Pan-African internationalist intellectual work was and is undertaken for broader human transformation. Benson has done our ancestors and current generation proud. (Greg Carr, Chair, Afro American Studies Department, Howard University)