Tuesday, December 10, 2019 - 6:00pm
We are delighted to welcome local historian John C. Russell to share Treasure State Tycoon, the astonishing history of Bozeman and one our founding fathers, Nelson Story. Treasure State Tycoon is the first full-length biography of Nelson Story, a pioneering prospector, cattleman, and entrepreneur whose influence profoundly shaped the development of Montana. Like many other leading capitalists of his era, Story was a complicated figure, at once ruthless in his business dealings and a philanthropic pillar of the community, and led a life driven by uncommon ambition.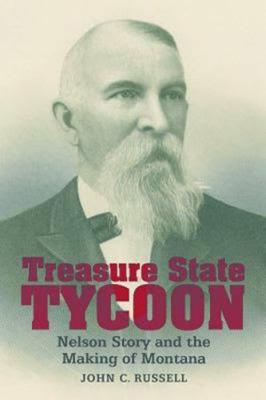 More about Treasure State Tycoon
Treasure State Tycoon recounts the remarkable life of Nelson G. Story, a colorful and contradictory figure whose influence on Montana's development was profound and rivaled by few others in its history. After striking it rich in gold fields of Alder Gulch, Story drove the first herd of cattle from Texas to the territory that would become the Treasure State and went on to build a commercial empire of diverse interests, the success of which relied both on his determination and ingenuity as well as his penchant for fraud and deceit. Story's reputation for ruthlessness in both personal and professional conduct was well earned, but he was also a generous philanthropist, supporting local churches, schools, and other civic improvements. He tirelessly promoted the upstart community of Bozeman, playing a central role in the establishment of the Montana State College of Mechanical and Agricultural Arts-- today's Montana State University. Like other political and business leaders of his time, Nelson Story left behind a legacy rife with paradoxes that gave shape to life in Montana and continues to resonate in the contested mythology of the American West.
"Nelson Story's life was a rich collision of risk, genius, violence, and scandal. In this engaging book, based on careful and meticulous research, John C. Russell traces Story's influence far beyond Bozeman and beyond his death. This is a tale vital to Montana history as well as the history of the American West."

-Michael D. Wise, Associate Professor of History at the University of North Texas.
More about John C Russell
John C. Russell was born in Kansas City, Missouri, and moved to Bozeman to attend Montana State University. He received his Bachelor of Arts degree in history in 1978. He has worked as a broadcast reporter in television and radio, and most recently as director of the Gallatin (County) Historical Society. In addition to "Treasure State Tycoon, Nelson Story and the Making of Montana," John has also written several historical articles, one published in Wild West Magazine. He and his wife Peggy live in Bozeman.
Event Guidelines
This event is free and open to the public. Most of our events are held upstairs, but we do not have an elevator. Please contact us with any accessibility concerns. To join the signing line and have books signed by the author at this event, please consider purchasing your copy of Treasure State Tycoon from Country Bookshelf, either in-store, over the phone, or online. By purchasing your book from Country Bookshelf, you are not only supporting a locally owned, independent business, but you are also showing publishers that they should continue sending authors to Country Bookshelf. The author's previous titles will be available for purchase at the event as supplies last.
Video recording, audio recording, and/or live-streaming during author appearances and signings is not possible without prior written permission from the publisher and Country Bookshelf.
Can't make it to the event, but still want to purchase an autographed or personalized book? Place your order below, enter "signed copy" plus any personalization details in the comments section of your order, and we'll have the author sign your books and ship them to you after the event!

$19.95
ISBN: 9781940527949
Availability: On Our Shelves Now
Published: Montana Historical Society Press - June 4th, 2019
---