Monday, October 19, 2020 - 7:30pm
Books in Common NW peeks behind the curtain of the modern-day hate movement with journalist Lonnie Lusardo and The Anatomy of Organized Hate. Lusardo will be joined in conversation by criminal justice scholar William Parkin from Seattle University.
Visit https://www.eventbrite.com/e/books-in-common-lonnie-lusardo-will-parkin-tickets-124022844667 to register, and add a copy of The Anatomy of Organized Hate when you do!
The Anatomy of Organized Hate merges two conflicting universes: the world that exists inside hate groups and the external sphere of government agencies and research organizations working to monitor and stop hate crimes.
Part One tells the stories of former neo-Nazis and white supremacists, including the crimes they committed as extremists, their prison experiences, and what caused them to gain compassion and eventually abandon the movement. The book explores the backgrounds and behavioral characteristics extremists have in common and what makes their stories so important.
Part Two presents a historical perspective on the hate movement and examines why most of what Americans know or believe about hate groups and hate crimes is misleading, grossly incomplete, or dead wrong. Learn how faulty police reports and FBI data, confusing legal definitions, historical political dynamics, changes in the ways the media report news, plus the emergence of social media and whites-only websites - all combine to form a false reality.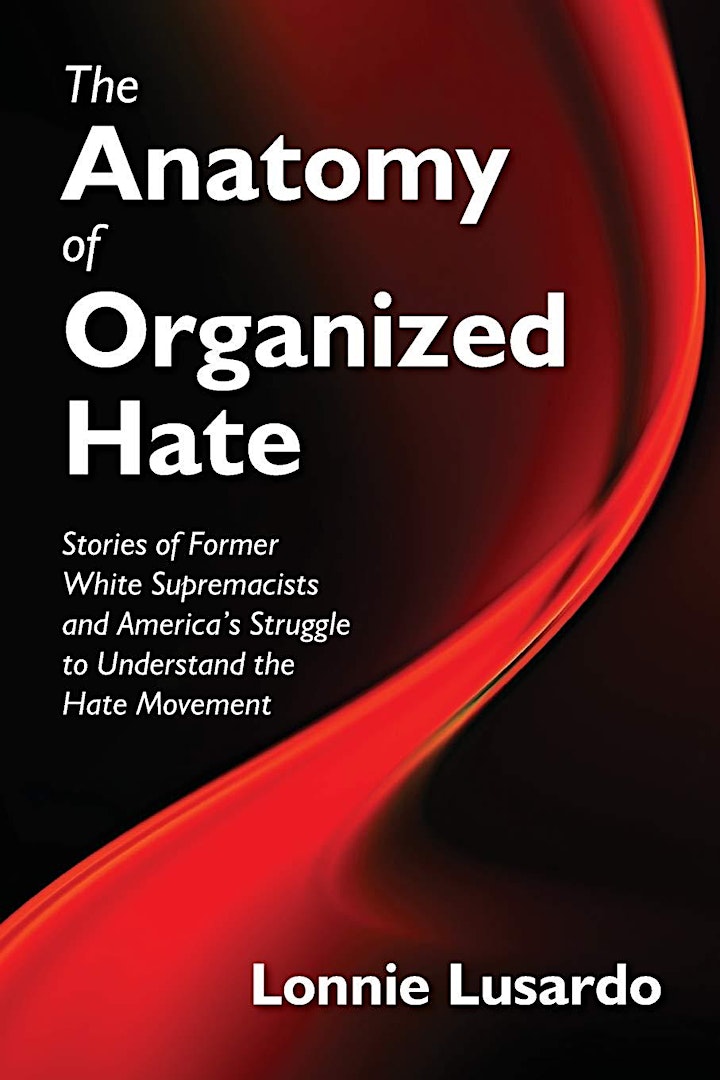 Lonnie Lusardo : Prior to writing The Anatomy of Organized Hate: Stories of Former White Supremacists – and America's Struggle to Understand the Hate Movement, Lonnie Lusardo founded The Diversity Collaborative, a veteran owned diversity, equity, and inclusion consulting firm. Since 1991, he has worked with government agencies and Fortune 500 companies. Before that, he covered government, education, and civil rights issues as a reporter for a metropolitan daily newspaper in Connecticut and later served as a freelance correspondent for 35 local, regional, and national publications. Lonnie holds a BS degree in Journalism from Boston University and an MEd degree in Education/Human Resources Development from Seattle University.
Dr. William Parkin: Dr. Parkin is an Associate Professor in the Department of Criminal Justice at Seattle University. His research interests include domestic extremism and terrorism, violent victimization, the media's social construction of criminal justice issues, and community safety and security. Dr. Parkin is a co-principal investigator for the evaluation and implementation of Seattle Police Department's Micro-Community Policing Initiative and also the Extremist Crime Database, a multi-institute project examining domestic extremism in the United States. He received his Ph.D. in criminal justice from the City University of New York and John Jay College of Criminal Justice with his dissertation focusing on homicide victims of ideologically motivated violence. Dr. Parkin also holds a Masters of Science in Justice Studies at Arizona State University and a Bachelors of Science in Sociology from James Madison University.

$16.95
ISBN: 9781733103305
Availability: On Our Shelves as of 9am Today
Published: Diversity Collaborative - August 12th, 2019
---