Wednesday, June 9, 2021 - 6:00pm
Country Bookshelf is delighted to welcome several local authors for a round of speed dating with your next great read.
Join Country Bookshelf and your neighbors for a seasonal celebration of local authors with our local author showcase. We've invited three local authors to share their new books with us in a virtual event that will knock your socks off.

Join Agatha Award-winning Alicia Beckman aka Leslie Budewitz in sharing her thrilling suspense debut Bitterroot Lake . When four women separated by tragedy reunite at a lakeside Montana lodge, murder forces them to confront everything they thought they knew about the terrifying accident that tore them apart.
Alicia Beckman adored living in Seattle as a college student and young lawyer, but is happiest back home in her native Montana, where she lives with her husband, a musician and doctor of natural medicine, and their full-figured gray tuxedo cat. As Leslie Budewitz, she's the bestselling author of the Seattle Spice Shop and Food Lovers' Village mysteries. A three-time Agatha Award winner, for Best Short Story (2018), Best First Novel (2013), and Best Nonfiction (2011), she is a past president of Sisters in Crime and a current board member of Mystery Writers of America.

Jamie Yourdon takes us back in time to ancient Sumeria with The Space Between Two Deaths in which two women must navigate the challenges of their world, and the next.
In ancient Sumeria, only a thin veil separates the living from the dead. The lives of Ziz, her mother, Meshara, and her father, Temen, are disrupted when a mysterious crevasse rends the earth. Temen becomes obsessed with the mystery and, capturing a crow to guide him, he follows a path to the netherworld where he hopes to gain wisdom from his dead father. Yet he soon finds that ancestors don't always provide the answers we need. In his absence, a grisly accident occurs on their farm -- Meshara and Ziz are forced to flee. Friendless and alone, they must find a way to survive despite the brutalities of their landlord and devotees of the religious nation-state. Will the women revel in their new companionship or seek to find freedom elsewhere?
Jamie Yourdon, a freelance editor and technical expert, received his MFA in Creative Writing from the University of Arizona. His short fiction has appeared in the Alaska Quarterly Review, Underneath the Juniper Tree, and Chicago Literati, and he has contributed essays and interviews to Booktrib. He lives in Portland, Oregon.
Set out on a unique adventure with Thomas Elpel and Five Months on the Missouri River Paddling a Dugout Canoe. Thomas J. Elpel had the rare opportunity to carve a dugout canoe with Churchill Clark, the great-great-great-great grandson of Captain Clark. Together they whittled a 10,000 lb. Douglas fir log down to a 500+ lb. canoe. Enlisting friends with additional canoes to join the adventure, Tom led a five-month "Missouri River Corps of Rediscovery Expedition," paddling the 2,341-mile Missouri River segment of the Lewis and Clark National Historic Trail from Montana to St. Louis.
In addition to being a successful author of several well-received books, Thomas J. Elpel is the founder of Green University LLC which mentors young adults in wilderness skills and sustainable living. He also is the founder of Outdoor Wilderness Living School which brings wilderness survival skills to school groups to help kids connect with nature.

$27.99

ISBN: 9781643855806
Availability: On Our Shelves as of 9am Today
Published: Crooked Lane Books - April 13th, 2021
---

$26.99

ISBN: 9781952919008
Availability: Available in Warehouse. Wait for Email Confirmation for ETA
This book cannot be returned, cancelled, or exchanged. Please call for availability and pricing
Published: Genz Publishing - April 6th, 2021
---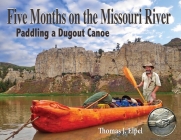 $36.00
This title is likely unavailable. Email or call for price and availability.
ISBN: 9781892784506
Published: HOPS Press - April 15th, 2020
---