Saturday, April 25, 2020 - 11:00am
We're celebrating Independent Bookstore Day in style--yeti style--with local author Precious McKenzie and her new book Cinder Yeti. We'll read Cinder Yeti, and kids will get to make yetis of their very own!
More about Cinder Yeti
A yeti-sized tale with a Cinderella twist! Cinder Yeti is a kind, sweet yeti who lives with her bossy stepsisters high in the mountains. Her chores are never-ending. Her days are dull and boring. Her stepsisters say people and yetis don't mix but Cinder Yeti longs for fun, so she journeys down to the village. What will she find? This picture book turns the story of Cinderella into a story where Cinder Yeti learns to live happily-ever-after without the help of a fairy godmother. Young children will delight in this beautifully written and illustrated book that is perfect for reading aloud!
More about Precious McKenzie
Precious McKenzie has written over thirty books for children, including Buff Ducks; Now or Later, Alligator; and Cinder Yeti. She lives in Montana with her family. To learn more about her, visit preciousmckenzie.com.
Event Guidelines
This event is free and open to the public. Most of our events are held upstairs, but we do not have an elevator. Please contact us with any accessibility concerns. To join the signing line and have books signed by the author at this event, please consider purchasing your copy of Cinder Yeti from Country Bookshelf, either in-store, over the phone, or online. By purchasing your book from Country Bookshelf, you are not only supporting a locally owned, independent business, but you are also showing publishers that they should continue sending authors to Country Bookshelf. The author's previous titles will be available for purchase at the event as supplies last.
Video recording, audio recording, and/or live-streaming during author appearances and signings is not possible without prior written permission from the publisher and Country Bookshelf.
Can't make it to the event, but still want to purchase an autographed or personalized book? Place your order below, enter "signed copy" plus any personalization details in the comments section of your order, and we'll have the author sign your books and ship them to you after the event!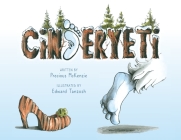 $11.95

ISBN: 9781734106503
Availability: On Our Shelves as of 9am Today
Published: Bealu Books - December 1st, 2019
---