Wednesday, July 13, 2022 - 6:00pm
Join Country Bookshelf for a virtual celebration of authors: Leah Sottile, Marina Richie, and Leigh Ann Ruggiero
Country Bookshelf is delighted to welcome so many local authors for July's round of speed dating to find your next great read. We'll hear from each author in turn, with a few minutes for questions after each one. We are excited to be joined by Leah Sottile, Marina Richie, and Leigh Ann Ruggiero.
When the Moon Turns to Blood examines the culture of end times paranoia and a trail of mysterious deaths surrounding former beauty queen Lori Vallow and her husband, grave digger turned doomsday novelist, Chad Daybell.
When police in Rexburg, Idaho perform a wellness check on seven J.J. Vallow and his sister, sixteen-year-old Tylee Ryan, both children are nowhere to be found. Their mother, Lori Vallow, gives a phony explanation, and when officers return the following day with a search warrant, she, too, is gone. As the police begin to close in, a larger web of mystery, murder, fanaticism and deceit begins to unravel.
Vallow's case is sinuously complex. As investigators prod further, they find the accused Black Widow has an unusual number of bodies piling up around her.
When the Moon Turns to Blood tells a gripping story of extreme beliefs, snake oil prophets, and explores the question: if it feels like the world is ending, how are people supposed to act?
Leah Sottile's investigations, longform features, profiles, and essays have been published by the Washington Post, the New York Times, the Atavist, Outside, and the Atlantic, among others. She is host of the podcasts Two Minutes Past Nine, on BBC Radio 4, and Bundyville--which was nominated twice for a National Magazine Award. She lives in Oregon.
---
More than one hundred species of kingfishers brighten every continent but Antarctica. Not all are fishing birds. They range in size from the African dwarf kingfisher to the laughing kookaburra of Australia. This first book to feature North America's belted kingfisher is a lyrical story of observation, revelation, and curiosity in the presence of flowing waters.
The kingfisher--also known as the halcyon bird--is linked to the mythic origin of halcyon days, a state of happiness that Marina Richie hopes to find outside her back door in Missoula, Montana. Epiphanies and a citizen science discovery punctuate days tracking a bird that outwits at every turn. The female is more colorful than the male (unusual and puzzling) and the birds' earthen nest holes are difficult to locate.
While the heart of the drama takes place on Rattlesnake Creek in Missoula, the author's adventures in search of kingfisher kin on the lower Rio Grande, in South Africa, and in London illuminate her relationships with the birds of Montana. In the quiet of winter, she explores tribal stories of the kingfisher as messenger and helper, pivotal qualities for her quest. For all who love birds or simply seek solace in nature, Halcyon Journey is an inviting introduction to the mythic and mysterious belted kingfisher.
Marina Richie is a nature writer based in Bend, Oregon. She has worked as a journalist and managed communications for a number of wildlife-oriented public and private organizations. She is the author of the children's books Bird Feats of Montana and Bug Feats of Montana. Her articles and essays have appeared in Birdwatching Magazine, A.T. Journeys, Post Road Magazine, and many other publications. Learn more at marinarichie.com.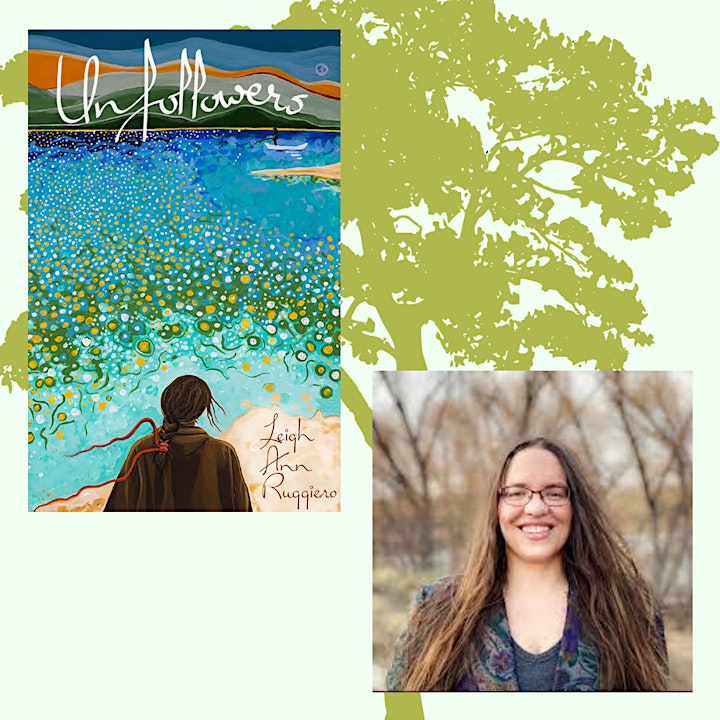 ---
Barb Matheson doesn't fit in: not on the Standing Rock Reservation where her mother was born; not at the mission in rural Ethiopia where she grew up; and certainly not at the Pennsylvania church where her husband preaches. Expansive and lyrical, Unfollowers is a tale of religious angst, unrequited love, and the upheaval of racial and economic privilege. Equally adrift on both sides of the Atlantic, Barb must negotiate the distance between white America and Africa, between the spirituality of her ancestors and the straight tones of evangelicalism, and between rules and grace. When a former lover crashes her daughter's third birthday party, she's offered the chance to find her way home to Ethiopia, leaving her to choose between a rote life in America and an improvised life abroad.
LEIGH ANN RUGGIERO earned an MFA from the University of Maryland before moving to Montana, where she teaches literature, writing, and film at Great Falls College. She was a finalist for the 2019 Ohio Writers' Association's Great Novel Contest.

$30.00

ISBN: 9781538721353
Availability: Available in Warehouse. Wait for Email Confirmation for ETA
Published: Twelve - June 21st, 2022
---

$24.95

ISBN: 9780870712036
Availability: Available in Warehouse. Wait for Email Confirmation for ETA
Published: Oregon State University Press - May 27th, 2022
---

$19.95

ISBN: 9781625346407
Availability: On Our Shelves as of 9am Today
Published: University of Massachusetts Press - March 25th, 2022
---